The 2021 Subaru Love Promise Customer and Community Commitment Award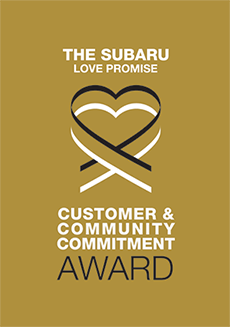 We've been nationally recognized for our dedication to our customers, our community, and the Subaru Love Promise.
We're honored to receive the 2021 Subaru Love Promise Customer and Community Commitment Award. This award nationally recognizes elite Subaru retailers who provide an exceptional customer experience at every interaction with Subaru. These retailers have also demonstrated an outstanding commitment to supporting passions and causes in their local communities in important areas such as the environment, community, health, education, and pets.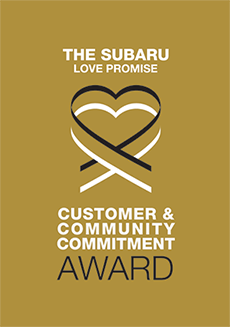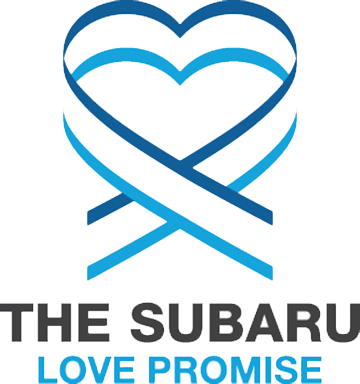 What is the Subaru Love Promise?
Subaru and our retailers believe in making the world a better place and the Subaru Love Promise is our vision of respecting all people. This is our commitment to show love and respect to our customers and to work to make a positive impact in the world.
How is Louis Thomas Subaru dedicated locally to the Love Promise?
Our Love Promise can be seen in various partnerships with local charities and non-profits. We're grateful for the opportunity, not only to be a part of our community, but to serve it as well.
Humane Society of Parkersburg
Jefferson elementary school
WVU Medicine/Camden Clark
Love Promise Stories from Louis Thomas Subaru
Subaru and Louis Thomas Subaru believe in making a positive impact on the communities in which we live and work. We uphold that belief through our Love Promise Community Commitment. Every month, we select inspiring stories from customers and partners from around our area who strive to support our collective commitment and feature them here
Share The Love - Andy T
We are proud and humbled to be able to "share the love" with the local Salvation Army. It is our honor to present this check, $28,392, to such an important and vital organization. Thank you for all you do for our community.
---
Share The Love - Andy T
Andy and Lou Jr dropped off a Forester full of new clothes, shoes, and other gifts to the local Salvation Army. They have an amazing team down there that works hard everyday to help those in our community that need it the most. We appreciate everything they do for the MOV!
---
Subaru Loves to Help - Lou Jr and Tom D
Lou Jr and our district sales manager Tom took some time to visit the Mid Ohio Valley Fellowship Home to drop off 80 Subaru branded Beantown blankets. A blanket may be a simple gift, but we hope they will provide warmth and comfort this winter to the people in our community who need it the most.
---
EXCEPTIONAL SERVICE - milton g
Our family has always bought from a local home town Chevrolet dealer in Parkersburg WV. I have been looking to purchase a new SUV and decided to stop and see the Louis Thomas Subaru sales team. ( Another home town dealer ). From the time my wife and I walked on the lot, we were treated like family. We were looking for a dealer that would treat us fair and take care of any vehicle issues that my wife might have while I am out of town. My wife felt very comfortable and we ended up buying a new Ascent. Since the service was so good my son ( Michael Gaines ) went to Lou Thomas and purchased a new outback for his wife to drive. I was telling my brother-in-law about my experience ( Dave Stemple ) and he went and purchased and new Crosstrek. I am very happy with this dealer and feel they do a great job representing Subaru!!
---
Subaru loves to care - Lou T
Louis Thomas Subaru is back at it again with the Leukemia and Lymphoma society to spread some love and warmth at Camden Clark Medical Center. For the 3rd year in a row we delivered blankets, care kits, and personalized messages of hope to patients. Lou Sr. was quoted saying, "our goal is for the patients is to not feel alone and isolated during such a difficult time."
---
Subaru Loves Learning - Lou and Andy T
Louis Thomas Subaru was back visiting our friends at Jefferson Elementary School. Last fall Louis Thomas Subaru delivered dozens of Math, Science, and Library books to the students and faculty at Jefferson Elementary. The faculty at Jefferson was very grateful for the books due to the rising cost of paper and hard back text books. Yesterday we dropped off several more boxes of text books and agreed to come back in a few weeks for career day. At Louis Thomas Subaru we believe making a positive impact on our youth is the key to a brighter future.
---
Above and beyond - David S
My wife and I own a hair salon. We always recommend our clients to Louis Thomas Subaru. They go the distance to help everyone feel comfortable and part of the family. Yes everyone says we took the Subaru pill. When people we send come back with a Subaru we can tell they took the pill also. It's a good feeling knowing we help put people in a safe reliable car.
---
Senior citizens association buys vehicle to delive - Carol J
PARKERSBURG — Wood County Senior Citizens Association has a new car to deliver more meals to homebound individuals throughout the county. Representatives and staff of the senior center were on hand Wednesday at Lou Thomas Subaru in Parkersburg to take possession of the 2019 Subaru Outback. Wood County Senior Citizens Association Board of Directors Chairman Mike Seely thanked those with the dealership for working with them to purchase this vehicle through the 2018 Subaru Share the Love Event."This vehicle will help us with our meal deliveries at the senior center," he said. Over the last 10 years, Subaru of America and its participating retailers have donated more than $118 million to help those in need, according to Subaru officials. By the end of this 11th year, Subaru of America and its participating retailers will have donated over $140 million to help those in need through the Share the Love Event, they added. Meals on Wheels has participated in the Subaru Share the Love Event since its inception in 2008 and has helped to deliver over two million meals to America's seniors. Through the Share the Love program people who purchase a Subaru can choose a charity to donate to."We are grateful to those who have chosen the Meals on Wheels program," Seely said. "That money has come back to this community in the sharing of this new Subaru with the Senior Citizens Center of Wood County."The Wood County Senior Citizens Association is purchasing the vehicle from Lou Thomas Subaru under the special Meals on Wheels promotion at a low rate with local, state and federal funds being used for the purchase, at a lower cost than what the car would normally sell for."The Outback is necessary for our Meals on Wheels lunch program which delivers a hot lunch to homebound seniors," Seely said. "This will be able to increase the number of meals we are able to deliver and make sure everyone who needs a meal in Wood County will get one."The center currently operates three routes for home-delivered meals. This car will allow them to add another route, said Nina Oates, nutrition coordinator."This car should allow us to get everyone off the current waiting list," she said. There are 212 clients who are registered to receive a home-delivered meal, Oates said. "We have 138 on the waiting list right now," she said. Once evaluations are done for each person, more people will be added."Right now, our three routes are completely maxed out," Oates said. "I could not put anyone else on the routes."This car will be used in the outskirts because we do all of Wood County," Oates said. "It is going to service those out in the country because this will be the safest vehicle we have now."Lou Thomas, the owner of the dealership, said they are honored to be a part of helping the county's senior population with this vehicle. Over the past year, the Wood County Seniors Association delivered 44,629 lunches to seniors across Wood County and 9,290 lunches served at the Senior Center."This will increase the number of meals we will be able to deliver," Seely said. "We have a waiting list of 130 people and this will allow us to put on another delivery route and be able to service 70-80 new clients with meal deliveries."Donations to support the senior's meal programs are necessary for the center to maintain its grant funding and expand operations, officials said. Many of the federal and state grants are to meet the day-to-day expenses; expanding programs takes extra funding that the center must raise, officials said. Funding for this new Subaru is being sought. The senior citizens association has received a grant from Dominion Gas Foundation and other donors, officials said. Meal deliveries are one of the services provided by the Wood County Senior Citizens Association, along with home care services and transportation services, Seely said.
---
Secret Santa - Lou T
We are back at it again! Lou and his wife spent their day off Christmas shopping for the local Salvation Army. Hopefully, we can make some kids smile this Christmas season!! #ShareTheLove. Also, shout out to Gabe's for giving us an extra 15% off everything just to help. They did it last year too. Sometimes doing one good deed can create a ripple effect Louis Thomas Subaru will be a drop-off point for anyone who wants to donate gifts to the Salvation Army this holiday season!
---
Furry friends - Lou T
Lou and Andy Thomas recently visited the Humane Society of Parkersburg to drop off some much-needed supplies, toys, and adoption essentials.
---
Subaru Loves Learning - Lou and Andy T
Louis Thomas Subaru recently partnered with Jefferson Elementary and the Subaru Loves Learning program.The partnership allowed Lou and Andy Thomas to deliver dozens of math, science, and library books to Jefferson Elementary students and administration. Jefferson Elementary is a Title 1 school which grants additional funds and staff for struggling students. We hope the new text books make learning more fun for students. The books are illustrated with lots of color pictures as well, great for young minds.The teachers handed out the books to students at the Jefferson Trunk or Treat. Administrators stated, "the books were a treat for their brain. Courtesy of Louis Thomas Subaru and Subaru Loves Learning"
---
Is there anything you can't do in a Subaru? - John M
In the last three months, our Subaru Outback has driven 6754 miles, delivered 2304 Meals, and added 15 new Clients. It has been great being able to add these additional clients to our routes. The Subaru has participated in a summer bash with Bitanga's Martial Arts Studios, showcasing local martial art talents and abilities of all ages. The Meigs County Biker's Association partnered with our Meals on Wheels program to host a Poker Bike Run, in order to raise funds and awareness for the cause. The Subaru Outback was escorted along the many miles of the run flanked by several groups of local bikers who support the program.
---
The Gift that Keeps on Giving - John M
Our Meals On Wheels recipients, of Meigs County Ohio, are very thankful to Subaru for their gift of the outback. Increasing our route size and being able to get to those who are more rural outliers has been very beneficial to them. Several have said that as they wait for their meal they will look down the road just waiting on that pretty car to come around the corner with their hot meal. We are very thankful to Subaru for helping us expand, so that we can add these new people to our routes.
---
For Meigs County Ohio.....Subaru really Delivers! - John M
The Meigs County Council on Aging has been very excited about our experience with Subaru from the very beginning. Learning that we would soon be the proud owners of a 2018 Outback to serve our clients was one of the most thrilling moments in the history of our agency. Sitting on that secret until we were allowed to let the world know, might have been one of the hardest things we had to do. Finally sharing that we had been awarded the Outback with our seniors, staff and our board members was amazing. They could not believe that a small rural place like ours, was going to be the recipients of such a large gift, and immediately the buzz was going around the county. Preceding the reception of the car, we worked with Louis Thomas Subaru, WTAP News, and The Daily Sentinel, in order to share our story to the region. Louis Thomas and his crew were great to work with, and quickly put us at ease on the whole procedure and news interview process. Seeing the Subaru for the first time, we couldn't get over all the extra "Bells and Whistles" that Subaru had included in this gifted car, and it also looked sharp! Subaru really delivered! Driving it back to our center was a privilege, and we couldn't wait until the community, that had gathered for our Giving Thanks reception, would get to come out and see it for the first time. We pulled it up, right in front of our building and opened it up for everyone to see. They were so surprised that Subaru had given our Agency such a nice car for us to use, and commented many times on how nice it looked with the wrap on it. The very next day, we took the new Subaru up to the Meals on Wheels Ohio Association meeting, so that they could see the car. The following Monday the Subaru was put directly into service on a dedicated route serving the rural eastern part of our county. Since then it has delivered over 1900 meals and driven 6039 miles in service to our seniors. So again I say, Subaru really delivered. For Thanksgiving this year, many members of our staff gathered together to cook a special traditional Thanksgiving dinner for our seniors who we knew would be alone for the holiday. We loaded up our Subaru and took off bringing hot turkey dinners to seniors all across our county just in time for dinner, again Subaru really delivered! Following close behind Thanksgiving were the Christmas parades that wind there way along the Ohio River with the backdrop of two beautiful river towns of Pomeroy and Middleport, Ohio. Each year we do large floats and take staff and seniors along with us for our small town, time honored traditions. Streets lined with families, waiting to see the many creative floats and citizens go by, decorated for the month long celebrations. Kids who are often waiting for the firetrucks with their sirens and of course Santa Claus himself, were very pleasantly surprised to see our float this year that had none other than the Grinch setup with a classic scene from the movie and even a fireplace with a smoking chimney. Subaru was right there with us in our Outback bringing seniors who could not otherwise participate, right along, tossing Meals on Wheels bracelets and treats to the kids and families. Again Subaru delivered! Each year we partner with other local churches and organizations to fill unmet needs of seniors in our care. This usually consists of bags and boxes of food and household items, and also gifts of warm blankets, pajamas, and slippers. The goods are all brought here to the Meigs Council on Aging to be sorted and packed by staff, their families, and volunteers from the community. We took these gift packages and once again loaded the Subaru until it couldn't hold anymore. Feeling like Santa himself, we went from home to home in our Outback bringing holiday cheer to each house we stopped. Subaru really delivered! Looking forward to 2018 we know Subaru will be along for the ride as we continue to serve those in need in our community in many different ways. So when we needed a partner to help us achieve or goals, now and in the future, Subaru really delivered!
---
Louis Thomas Subaru Warms Hearts at CCMC - Breanna S
Louis Thomas Subaru and The Leukemia & Lymphoma Society (LLS) recently teamed up to spread love, hope and warmth to cancer patients and their families in the Parkersburg area. During the month of June, visitors to Louis Thomas Subaru were invited to write personalized messages of hope for cancer patients, which were distributed at Camden Clark Medical Center (CCMC) on July 6. Along with these encouraging notes, the dealership generously donated 80 blankets to the hospital's Cancer Center. To patients receiving chemotherapy, air-conditioned treatment facilities can feel incredibly cold, and many hospitals rely on donations of quilts, afghans and other blankets to keep their patients warm and comfortable. Louis Thomas Subaru also purchased CCMC art kits packed full of Crayola products, which will help children who accompany a loved one to treatment feel more at ease. "It's humbling, knowing that you're just taking a few minutes out of your day to put a smile on a kid's face who's in a really tough situation," said Lou Thomas, Jr., the dealership's Sales Manager. LLS is grateful to Louis Thomas Subaru's management, staff and customers for giving their time and resources so generously to cancer patients at CCMC and throughout the Parkersburg community.
---
Flood Relief Efforts in West Virginia - Margaret O
Beckley, WV April 6th, 2017 Subaru Share the Love Event Raises over $51,000 for United Way's. During this 9th year of Subaru's Share the Love Event, all eight West Virginia Subaru retailers went above and beyond by selecting United Way as their hometown charity to support flood relief efforts in central and southern West Virginia. As the Share the Love hometown charity, customers at Louis Thomas Subaru had the option to select the United Way to receive the $250 donation when they purchased or leased a new Subaru in November and December. These donations were then matched by Louis Thomas Subaru. United Way of Central WV, United Way of Greenbrier Valley and United Way of Southern WV were very thankful for these Subaru retailers and their joint effort to raise funds for people most affected by the June 2016 flood. The check presentation was made at United Way of Southern West Virginia by Subaru retailers from Cole Subaru, Jenkins Subaru and Hometown Subaru.
---
Subaru E-Waste recycling event - Sean J
Louis Thomas Subaru is very proud to partner with Subaru of America for our 1st ever E-Waste recycling event. Through the month of April we collected approximately 1700lb. of electronic waste to be professionally recycled and repurposed. A variety of electronics from computers to TV's were received. This event demonstrates the Subaru commitment to our environment.
---
Louis Thomas Subaru Share The Love Event - Shirley G
Through the combined efforts of Subaru of America and our dealership, with the support of many loyal Subaru owners we were able to present to the Parkersburg Salvation Army a check for $16,139.00. The Salvation Army is one of the oldest organizations in the country charged with helping people in need, through various social outreach programs.
---
April 1-30, 2015 E-Waste Recycling Event - Molly M
Throughout the month of April, we are hosting an E-Waste Recycling Event in our store to collect unwanted electronics. We've arranged to work with a company who will responsibly collect, re-purpose, and recycle your electronic waste. Help us protect our environment. Just show up with your E-Waste and we'll do the rest! The first 50 customers who contribute will receive a complimentary environmental badge of ownership. We will accept: LCD Monitors, Cell Phones, Laptops, Tablets, CRTs up to 40 inches, Video Games/Consoles, Fax Machines, DVD/VCR Players, Printers, Computer Peripherals, Switches/Routers, Cords and Wires.
---