The 2021 Subaru Love Promise Customer and Community Commitment Award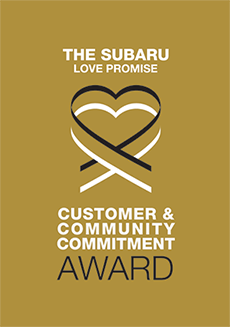 We've been nationally recognized for our dedication to our customers, our community, and the Subaru Love Promise.
We're honored to receive the 2021 Subaru Love Promise Customer and Community Commitment Award. This award nationally recognizes elite Subaru retailers who provide an exceptional customer experience at every interaction with Subaru. These retailers have also demonstrated an outstanding commitment to supporting passions and causes in their local communities in important areas such as the environment, community, health, education, and pets.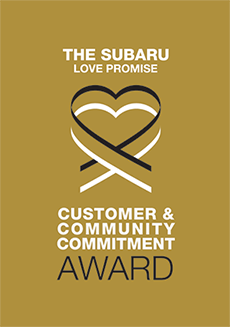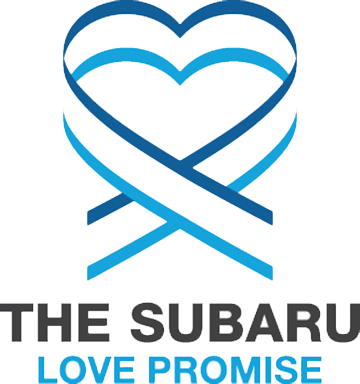 What is the Subaru Love Promise?
Subaru and our retailers believe in making the world a better place and the Subaru Love Promise is our vision of respecting all people. This is our commitment to show love and respect to our customers and to work to make a positive impact in the world.
How is Louis Thomas Subaru dedicated locally to the Love Promise?
Our Love Promise can be seen in various partnerships with local charities and non-profits. We're grateful for the opportunity, not only to be a part of our community, but to serve it as well.
Humane Society of Parkersburg
Jefferson elementary school
WVU Medicine/Camden Clark
Love Promise Stories from Louis Thomas Subaru
Subaru and Louis Thomas Subaru believe in making a positive impact on the communities in which we live and work. We uphold that belief through our Love Promise Community Commitment. Every month, we select inspiring stories from customers and partners from around our area who strive to support our collective commitment and feature them here
K9 Rescue - Lou T
Meet Apawlo a 11 month old Dark Sable German Shepherd and his owner/handler Melissa Gobel. Apawlo is in training to be a member of K9 EAST (Emergency Assistance Search Team) a 501(c) 3 non-profit organization whose mission is to support first responders in search, rescue and recovery. K9 EAST is funded entirely by the generosity of sponsors, their services are completely free to those in need. We are extremely fortunate to have such a valuable organization in our community, and are very honored to support them. For more information about K9 EAST or anyone interested in offering support please contact them at email: K9eastteam@gmail.com
---
Classroom partner - Brittany Y
We are so proud to partner with the kindergarten classroom of Brittany Young at Jefferson Elementary School. Brittany will be using her voucher to purchase much needed supplies for her classroom.
---
Share The Love - Andy T
We are proud and humbled to be able to "share the love" with the local Salvation Army. It is our honor to present this check, $28,392, to such an important and vital organization. Thank you for all you do for our community.
---
Share The Love - Andy T
Andy and Lou Jr dropped off a Forester full of new clothes, shoes, and other gifts to the local Salvation Army. They have an amazing team down there that works hard everyday to help those in our community that need it the most. We appreciate everything they do for the MOV!
---
Subaru Loves to Help - Lou Jr and Tom D
Lou Jr and our district sales manager Tom took some time to visit the Mid Ohio Valley Fellowship Home to drop off 80 Subaru branded Beantown blankets. A blanket may be a simple gift, but we hope they will provide warmth and comfort this winter to the people in our community who need it the most.
---
EXCEPTIONAL SERVICE - milton g
Our family has always bought from a local home town Chevrolet dealer in Parkersburg WV. I have been looking to purchase a new SUV and decided to stop and see the Louis Thomas Subaru sales team. ( Another home town dealer ). From the time my wife and I walked on the lot, we were treated like family. We were looking for a dealer that would treat us fair and take care of any vehicle issues that my wife might have while I am out of town. My wife felt very comfortable and we ended up buying a new Ascent. Since the service was so good my son ( Michael Gaines ) went to Lou Thomas and purchased a new outback for his wife to drive. I was telling my brother-in-law about my experience ( Dave Stemple ) and he went and purchased and new Crosstrek. I am very happy with this dealer and feel they do a great job representing Subaru!!
---
Subaru loves to care - Lou T
Louis Thomas Subaru is back at it again with the Leukemia and Lymphoma society to spread some love and warmth at Camden Clark Medical Center. For the 3rd year in a row we delivered blankets, care kits, and personalized messages of hope to patients. Lou Sr. was quoted saying, "our goal is for the patients is to not feel alone and isolated during such a difficult time."
---
Subaru Loves Learning - Lou and Andy T
Louis Thomas Subaru was back visiting our friends at Jefferson Elementary School. Last fall Louis Thomas Subaru delivered dozens of Math, Science, and Library books to the students and faculty at Jefferson Elementary. The faculty at Jefferson was very grateful for the books due to the rising cost of paper and hard back text books. Yesterday we dropped off several more boxes of text books and agreed to come back in a few weeks for career day. At Louis Thomas Subaru we believe making a positive impact on our youth is the key to a brighter future.
---
Above and beyond - David S
My wife and I own a hair salon. We always recommend our clients to Louis Thomas Subaru. They go the distance to help everyone feel comfortable and part of the family. Yes everyone says we took the Subaru pill. When people we send come back with a Subaru we can tell they took the pill also. It's a good feeling knowing we help put people in a safe reliable car.
---
Senior citizens association buys vehicle to delive - Carol J
PARKERSBURG — Wood County Senior Citizens Association has a new car to deliver more meals to homebound individuals throughout the county. Representatives and staff of the senior center were on hand Wednesday at Lou Thomas Subaru in Parkersburg to take possession of the 2019 Subaru Outback. Wood County Senior Citizens Association Board of Directors Chairman Mike Seely thanked those with the dealership for working with them to purchase this vehicle through the 2018 Subaru Share the Love Event."This vehicle will help us with our meal deliveries at the senior center," he said. Over the last 10 years, Subaru of America and its participating retailers have donated more than $118 million to help those in need, according to Subaru officials. By the end of this 11th year, Subaru of America and its participating retailers will have donated over $140 million to help those in need through the Share the Love Event, they added. Meals on Wheels has participated in the Subaru Share the Love Event since its inception in 2008 and has helped to deliver over two million meals to America's seniors. Through the Share the Love program people who purchase a Subaru can choose a charity to donate to."We are grateful to those who have chosen the Meals on Wheels program," Seely said. "That money has come back to this community in the sharing of this new Subaru with the Senior Citizens Center of Wood County."The Wood County Senior Citizens Association is purchasing the vehicle from Lou Thomas Subaru under the special Meals on Wheels promotion at a low rate with local, state and federal funds being used for the purchase, at a lower cost than what the car would normally sell for."The Outback is necessary for our Meals on Wheels lunch program which delivers a hot lunch to homebound seniors," Seely said. "This will be able to increase the number of meals we are able to deliver and make sure everyone who needs a meal in Wood County will get one."The center currently operates three routes for home-delivered meals. This car will allow them to add another route, said Nina Oates, nutrition coordinator."This car should allow us to get everyone off the current waiting list," she said. There are 212 clients who are registered to receive a home-delivered meal, Oates said. "We have 138 on the waiting list right now," she said. Once evaluations are done for each person, more people will be added."Right now, our three routes are completely maxed out," Oates said. "I could not put anyone else on the routes."This car will be used in the outskirts because we do all of Wood County," Oates said. "It is going to service those out in the country because this will be the safest vehicle we have now."Lou Thomas, the owner of the dealership, said they are honored to be a part of helping the county's senior population with this vehicle. Over the past year, the Wood County Seniors Association delivered 44,629 lunches to seniors across Wood County and 9,290 lunches served at the Senior Center."This will increase the number of meals we will be able to deliver," Seely said. "We have a waiting list of 130 people and this will allow us to put on another delivery route and be able to service 70-80 new clients with meal deliveries."Donations to support the senior's meal programs are necessary for the center to maintain its grant funding and expand operations, officials said. Many of the federal and state grants are to meet the day-to-day expenses; expanding programs takes extra funding that the center must raise, officials said. Funding for this new Subaru is being sought. The senior citizens association has received a grant from Dominion Gas Foundation and other donors, officials said. Meal deliveries are one of the services provided by the Wood County Senior Citizens Association, along with home care services and transportation services, Seely said.
---